Reset: How to Have a New Beginning in Business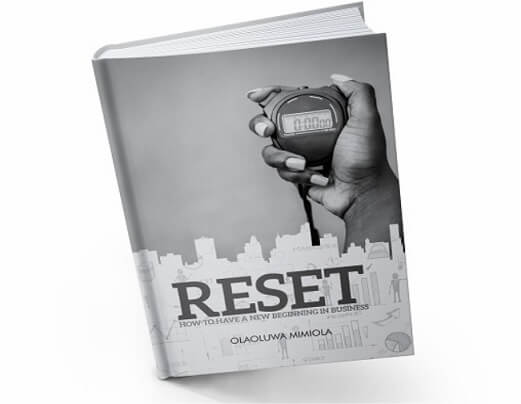 IT is quite expedient that when you can no longer think of a reason to continue in your business, you must think of a reason to start over. Note that giving up and starting over, in the right direction, in business, are not the same. Instead of regretting your past and mistakes, just employ the rule of Javelin whereby you deliberately move back (to gather more strength), then move forward with more strength, and hit a landmark record.
This book, Reset: How to Have a New Beginning in Business, teaches you how to make your past mistakes and failures springboards to record enviable success in your business. You will learn provable strategies, with copious examples, on how to bounce back strong in business.
Get the book. Get for your loved ones. Get, even, for your enemies; they will become your good friends!!!
Review
Reading the thought of Olaoluwa Mimiola on Reset: How to Make a New Begining in Business is like having your own brainstorming session with 65 highly knowledgeable men and women of a certain age and many different walks of life, and who have fell and rise again in their businesses and in the taking but quite fulfilling entrepreneurship terrain.
The literary work is full of candour, practical examples and wisdom. The author meticulously chronicles why individuals or groups subscribe to the interesting terrain of entrepreneurship.
He was unambiguous on:
*Why some succeed and others do not.
*Why some of those who fail could gather themselves and succeed again and why others couldn't.
*What to do during the inevitable challenges in business operations.
*How to be proactive in business and always stay successful in the industry.
*And much other useful insight needed to succeed in business and overcome the inevitable challenges in the course of running a business.
He presented step-by-step strategies for restarting a crash business and preventing a business from crashing, without minding putting together your temperament, interests and budget.
–Akintunde Olabode, Business Developer, Georgia, USA.